WAVE HEIGHT
3.9ft
SWELL DIRECTION
SSW210.0°
DOMINANT PERIOD
5.0 Seconds
WIND SPEED
10mph
WIND DIRECTION
SW220.0°
tides
Next High + 2.7ft @ 12:43am
Reporter: Nick H
Updated: 21, August, 2019 @ 10:03
Current Observation
Foggy morning out there with surf right around knee high with thigh high sets coming thru that look fun with the longer boards. Winds out of the SSW around 8 knots. 


Lots to watch this time of year as the tropical Atlantic is waking up - scroll down to check out our tropics news. 

Water Temperature: 69°F 
3-Day Surf Forecast for Rhode Island
THURSDAY, AUGUST 22
SSW windswell develops and mixes with minor SE swell. Expect waves around knee to thigh high in the morning at east facers. Exposed spots that can handle a SW swell could see more size (waist high +/-). Winds out of the west/southwest.
FRIDAY, AUGUST 23
SSW windswell lingers with surf right around waist high in the morning, a touch bigger is possible at the better southern exposures. Winds out of the NW to start the day, shifting W into the PM.
SATURDAY, AUGUST 24
Fading SSW windswell and SE swell mix, topping out around knee high at best. Winds out of the NNW around 5 knots.
Surf Forecast Discussion
The next frontal system is going to impact New England on Thursday, as a cold front sags into the region early on Thursday and pushes offshore. This system will send a shot of SSW windswell to southern New England Thursday into Friday
The windswell will have a bit of west in it to start, coming from about ~210 degrees. This angle doesn't filter into too many RI spots, so expect surf to be on the small side for most spots on Thursday - right around knee to thigh high, maybe an occasional waist high set.
Southern exposures that have a shelter from SW wind but can pick up that SSW windswell will have a bit more size.
Friday is looking a bit more promising as the windswell straightens out, going a bit more south. This should help the weak windswell filter into more spots on Friday morning, and NW winds will help keep things fun at the right spots. High tide right around 2pm. Winds shift a bit more west into the afternoon.
SSW windswell fades into Saturday, with waves sticking around the knee high mark. An occasional thigh high set is possible, but overall a weak day for surfing.


Tropics News
Just as expected, the Atlantic is showing a little bit of life as we approach the back half of August. Something like 80% of all ATL tropical activity happens after August 20.
Do you remember that weak little low pressure system that moved off the Carolinas on Sunday/Monday? It didn't mean much for surf in RI thanks to the proximity and strength of the storm, but it has just materialized into Tropical Storm Chantal, see below from NOAA NHC: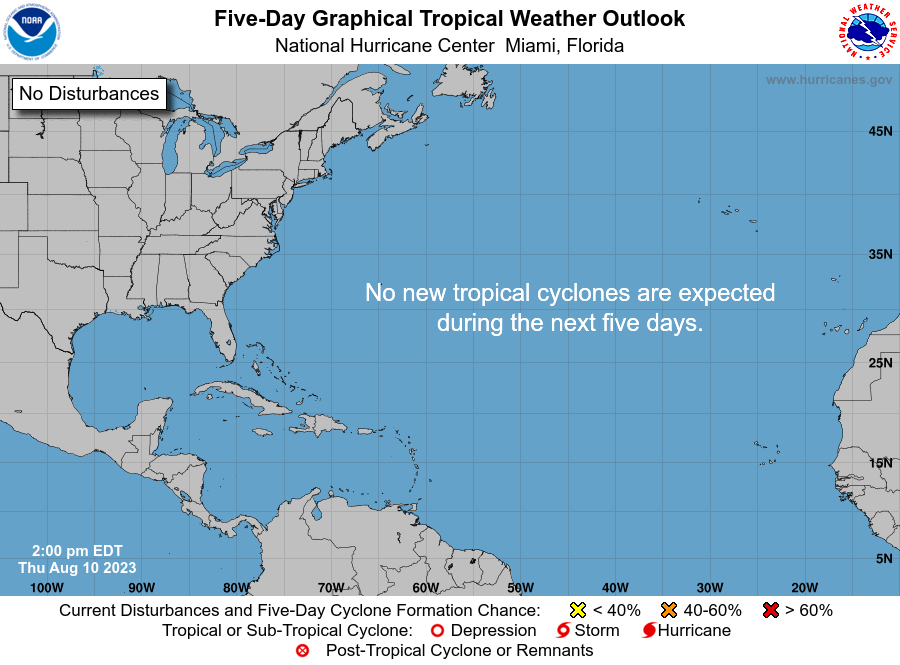 This system will not make any impact with land as it moves out to the central Atlantic. Hopefully we will see some east swell filter in early next week from Chantal...
There's another system parked off of the Bahamas that could has a small chance at development over the next couple of days as it approaches Florida. If the system organizes and curves north east, we could possibly see a swell producer.
Lots to watch this time of year.. stay tuned for updates!